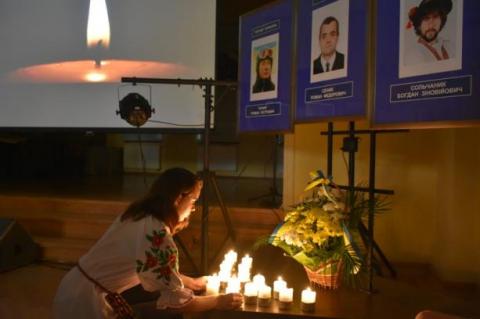 Employees of the National Museum of the Revolution of Dignity visited the "Birthday of the Hero of Heavenly Hundred" - a regular event dedicated to the fallen heroes of the Maidan. In this format, the Museum of the Liberation struggle of Ukraine, as an independent department of the Lviv Historical Museum, pays tribute to the locals who died during the events of the Revolution of Dignity.
The memory of heroes with similar birth dates is celebrated in one day. So, on August 7, 2018, Roman Senik, Roman Tochen, and Bogdan Solchanik had their service held by museum stuff.
The co-organizer of the event is Svitlana Kochergina, the senior researcher at the Lviv Historical Museum.
"Roman has always been very sociable and cheerful. He had a lot of good friends, dreamed of a large, bright house of his own, of the welfare of his children. Roman always had time for children, spent all his free time with them, and believed that everything will be good in Ukraine again", - says Lilia Tochyn, from the Lviv Regional Council website.
"When his brother went to the Maidan, he began to live with him, he was proud of the fact that he was entitled to hold the flag on the Maidan, and he constantly said to me:" I know that there are just a few of us here and that it's very dangerous, but I have to be here for you, for our children and for the future of all Ukrainians. "He could not stay aside when he saw that his help was needed there", – recalls Lesya Lisak, sister of Roman Senyk.
During the event, music was performed by the soloists of the Lviv regional philharmonic society Lilia Vikariuk, the collective "Perekotipole" and the girls' ensemble "Romashka".
"Коли брат поїхав на Майдан, він почав жити ним. Він був гордий тим, що йому довірили прапор на Майдані. Він мені постійно казав: "Я знаю, що нас мало і тут небезпечно, але я мушу тут бути за тебе, за твоїх дітей і за майбутнє всіх українців". Він не зміг пасивно спостерігати, коли бачив, що його допомога там потрібна", – згадує про свого брата Романа Сеника Леся Лисак.
Під час заходу прозвучали музичні твори у виконанні солістки Львівської обласної філармонії Лілії Вікарук, колективу "Перекотиполе" та дівочого ансамблю "Ромашка". 
Submitted on 2018 08 22, 13:48