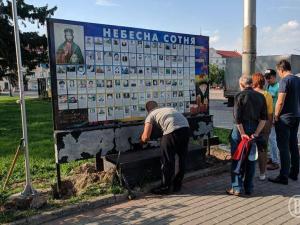 In Chernihiv, the volunteers restored the memory wall of the Heroes of Heavenly Hundred.
The Wall of Heavenly Hundred in Chernihiv was established in 2014 on the square where the local Euromaidan took place.
As activists note, at all stages of preparation and installation, city dwellers refused to take money for their work as soon as they found out that it was in memory of the Maidan's heroes.
Natalya Voskresenska-Pavlenko, the founder of the 'Active Citizens' organization, shared her memories with
us.
"Several dozen people took part in the work, and all the work - from the auction to the purchasing all the
necessary things, painting, printing, installing - was done for free. Once they found out that it was for the Walls
of the Heavenly Hundred, they did everything voluntarily. The number of Heroes of Heavenly Hundreds
increased over the past four years and their photos and bios were just adding to the main structure. Now,
because of the weight, the metal structure deformed, and the Arakal film with information about the dead
burned out in the sun, so we decided to start reconstruction. So the old stand was removed and completely
restored. It looks the same as the one that we created in 2014. We created new Arakal with biographies and
we would like to give huge thanks to the National Museum of Maidan for helping us to create the new concept
of it. The wall is also upgraded technologically, with every short biography there is a QR- code that sends to
the web page with the information about the corresponding deceased."
Two weeks after the repair, the police detained a man who was throwing beer bottles at the memorial wall.
The Desniansky court of Chernihiv, in terms of punishment, ordered 50 hours of public works. The offender
left the note in which he asks Russia for help. A man left his address, clarified where he was staying. He
rejected his Ukrainian citizenships and prays that he will be able to come back to Russia.
Natalia Voskresenska-Pavlenko explains that this is very unusual. Apart from that man, since 2014, this wall
of memory, or other places that the volunteers have drawn into Ukrainian patriotic themes, has never been
damaged.
Last year, the Security Service of Ukraine, together with the police, detained a group of vandals that were
committing crimes against the monuments of the Revolution of Dignity and victims of the ATO.